Pet Grooming Service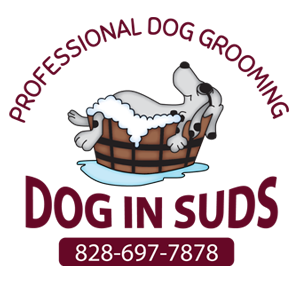 Dog in Suds offers full service grooming for all breeds of dogs.
Grooming is available by appointment only Tuesday - Friday.
Please call us for appointments @ 828-697-7878
Bath and Grooming Prices
Size Bath Starts Grooming Starts
1-10lbs $40 $70
11-30lbs $50 $80
31-50lbs $60 $90
51-75lbs $70 $110
75lbs & up $80 $120
Prices are based on size, type of coat and temperament of dog.
Add On's :
Express Groom: $35 additional fee added to grooming price
Specialty Shampoo: $15
Paw Soak & Balm: $25
Additional Fees:
$25 - Dematting - fee based on amount of time spent dematting, it starts at $25
$25 - Special Handling fee for aggressive/difficult dogs
$15 - Daycare fee added to total for all dogs picked up 2 hours or more after being notified the dog is ready.
We do offer nail trims for dogs and cats as a walk-in service Tuesday-Friday between 8:30-3pm., cost is $15.